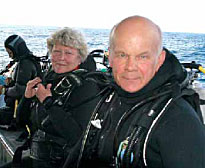 We've been diving since 1960, which is almost for 50 years. We started as teenagers in diving club at the lake side in Olsztyn, where we have lived all our lives. For years we practices a sport called underwater orienteering and for 20 years we have been taking underwater photos.
When we dived in the Red Sea for the first time, we immediately thought that were missing something. Soon we realized: we needed a camera for taking underwater photos. Since then, during each dive, we hold underwater cameras in our hands.
We were delighted by the beauty of coral reefs and we try to capture this beauty in our pictures. In the beginning, we used analogue Nikos RS cameras and Fuji films. We parted with them with some regret, as Fuji films gave excellent results.
Now, we use Canon 5D digital cameras in Secam underwater housings. We normally use two flashes. We apply the following lens: Alicja uses 5, 70 and 100 mm lens for macro and close-up photos, and Janusz almost exclusively uses a 180 degree wide angle fisheye lens, which provides great opportunities for photographing. Sometimes, especially when taking pictures of shipwrecks, in underwater caves or tunnels, we turn off the flashes and the only light that illuminates the object is sunlight reaching us from the surface. Our dives usually take about one hour, and the time we have for taking pictures is shorter, about 40-45 minutes.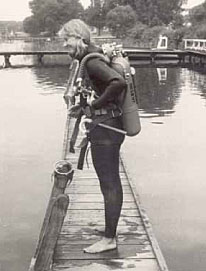 Alicja Dramińska
I have been diving since 1964. I'm a diving instructor. I took part in Polish and European cups and championships in underwater orienteering. To this day, this difficult and elite discipline is practised by few people. However, nationwide competitions are still organised. We take part in these competitions. It's a pleasant outdoor entertainment.
Also, since 1995 I dive in the red Sea, where I take photos. I like taking close-up photos. Sometimes, it is only after we view the photos that we can notice something we could not see under the water. I wrote a series of articles about the most beautiful diving destinations around the Egyptian resort Hurghada, which were published in the 'Magazyn Nurkowanie' monthly.
Janusz Dramiński
I have practised diving since I was fourteen. I'm a diving instructor. For many years, I successfully took part in various underwater orienteering competitions, i.e. swimming under the water with a compass and odometer. In Europe, there were even Europe and World Championships organised in this discipline. I won many of them. I was managing the 'Coral' Divers Club in Olsztyn for a long time. My passion is underwater photography.
I'm the author of the annual series of articles "How to take good photos?" in the 'Magazyn Nurkowanie' monthly. Under the water, I like to take panoramic pictures and underwater landscape photos. Fisheye lens is my favourite photographing tool. I guess it reflects my character – I like to see a lot and from a distance…